Take the Whole Family Along – Accessory Motor Cycle Seats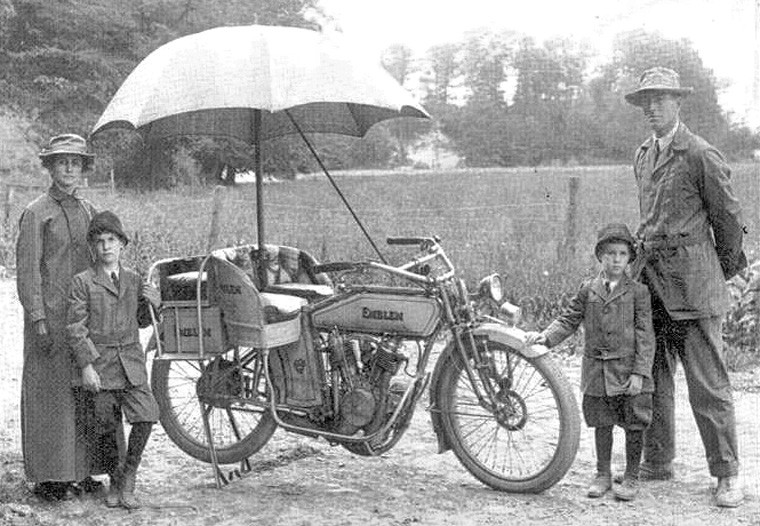 The motorcycle through the first three decades of the 1900s was more than just fun two-wheeled transportation to enjoy on a sunny day. The automobile at first was quite expensive and only within reach of the well-to-do. The two-wheeler was a less expensive alternative for others of more modest means and soon became an economical way of transport for many.
The early machines, really not much more than a motorized bicycle were only offered with a solo seat. Soon the accessory manufacturers began offering retrofit rear seats for a passenger. As motorcycle development progressed, and the machines became more powerful, side-seating arrangements for both two and three passengers were offered, which is the subject of this article.
The Emblem was manufactured by the Emblem Mfg. Co., located in Angola, NY. The Company like many, first manufactured bicycles and then added a motorcycle to its line. Later on the firm apparently offered their own version of a side-seat that was also availble with two smaller units on the rear for children. The image (above) shows a couple and their two sons with an early teens V-twin model equipped with four seats.
In addition, this machine is equipped with an umbrella, a speedometer, and a small bicycle like headlight powered by a generator running off of the sidewall of the front tire.
                         The lead image (above) shows a family with an Emblem V-twin four seater.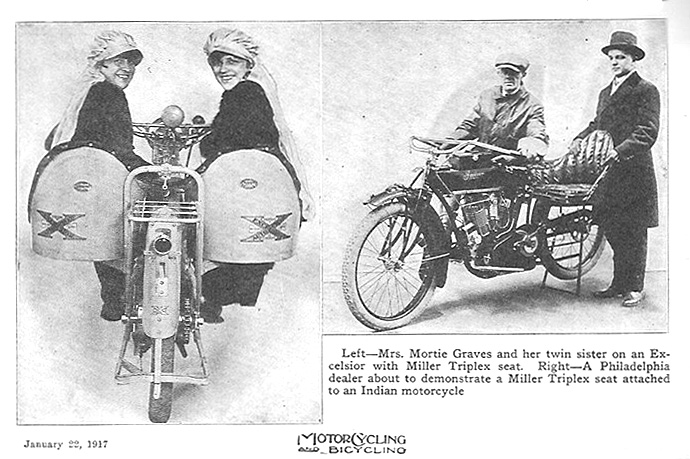 The Miller Triplex Seat was offered as early as 1914 by the Haverford Cycle Co. of Philadelphia.
Who came up with the idea of offering side seats for both a rider and passenger is unknown, but patented examples were found as early as 1913. The Miller Triplex Seat offered by the Haverford Cycle Co. of Philadelphia was on the market as early as 1914, and can be seen (above) in the Jan.  22, 1917 "Motorcycling and Bicycling". The retailer also handled the Excellsior Motorcycle.
The advertisement (below) in the October 6, 1914, "Bicycling World and Motorcycle Review" demonstrates the Miller side-seats, and a center seat that the rider used when three were aboard. An optional forth seat for mounting on the rear of a machine was also offered.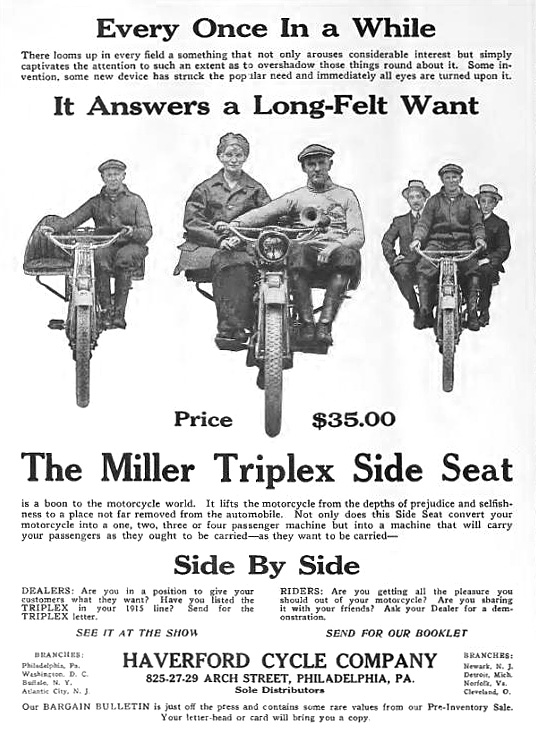 "Miller Triplex Side Seat" ad in the October 6, 1914, "Bicycling Word and Motorcycle Review".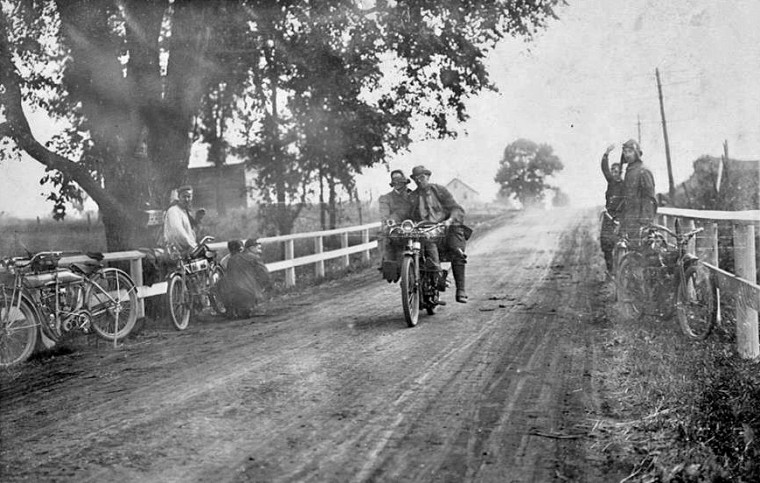 An early machine equipped with side-seats on a motorcycle run of some sort.
An interesting account in the "Motorcycle Illustrated" March 1916 issue is included (below) that details a 3000-mile round trip by an Excelsior agent and a "running mate". They traveled from Pennsylvania to Florida and return, starting on Dec. 9, 1915. The article tells of the week-long trip south that included: frozen roads, being arrested for speeding, followed by muddy roads, waterholes, and balmy weather after reaching The Sunshine State.
              Round trip account of a "Side- Seater" Florida trip -"Motorcycle Illustrated" March 1916.